U19 National Indoor 2014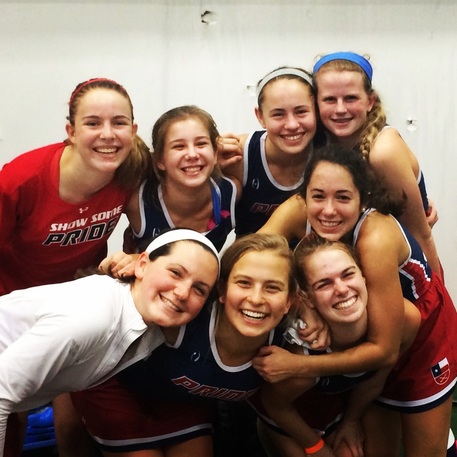 U19 National Indoor
Richmond, VA
Convention Center
February 28 - March 2
Starts @ 2pm Feb 28th
Finishes @ 4pm March 2nd
REGISTRATION FORM

Schedule

U19 - POOL B
FR 2:30PM HIGHSTYX FIELD 2 BLUE
FR 5:00PM BLUEGRASS FIELD 1 WHITE
SA 9:00PM RAMPAGE GOLD FIELD 4 BLUE
SA 11:00AM NORTHEAST ELITE FIELD 3 WHITE
SA 2:30PM XCALIBUR PYTHON FIELD 8 WHITE
SU 9:30AM TCOYO KARMA FIELD 3 BLUE
SU 1:00PM SAINTS RED FIELD 8 BLUE
Flights
After this weekend, and with winter travel/connecting flights to the northeast, I think it might be best to come in late Thursday night since they are already going to miss school on Friday.
SW/ Air Tran
2/27 HOU 6:30pm - RIC 11:30pm
3/2 RIC 6:38pm - HOU 11:30pm
United
2/27 IAH 5:16pm - RIC 10:48pm
3/2 RIC 5:42pm - IAH 10:52pm
Cost: $520
Includes ground tranportation, fee, hotel, breakfast, and food during the day
Hotel
Crown Plaza - Downtown Richmond
Book more hotel rooms:
Reservation deadline: February 13, 2014Team Name: Texas Pride FHCTeam Organizer:
Kristina Edmonds
Team Code:
NITRich40232
Please go to our website
https://www.globaljbs.com/app/event.php?id=527
and click on the
Accommodation's Tab.
Scroll down until you reach your teams' hotel and then click
reserve now
. This will automatically open a pop up window requesting the # of Rooms Requested and the # of Occupants per Room then click
Make Reservation
.
· You will then need to either log in as a Returning
User or create an account by clicking
Register.
If you have not previously created an account you will need to do so at this time. This will allow you to come back and view your reservations, make adjustments and easily create new reservations for future events.
You will then be asked to check your email to verify your email address - please verify and then
Log-in
to complete your reservation.
· Confirm your dates and then select
Individual Reservation
-
I am part of a group
then enter your Team Code
NITRich40232
· Review your personal details
for accuracy and enter in your Credit Card Information. Then click "
Make Reservation"
. Once you submit your reservation, you will receive an online confirmation and a copy of your reservation will be sent to your email address on file.
U19 Texas Pride Stars
Paige Albert
Alex Altamirano
Kelsey Bing
Emma Eggleston
Kaylie Mings
Meghan Mogas
Jennifer Trieschman
Reese Vogel
---